Shenzhen?is a diverse international hub for entrepreneurship in China as every minute 7 startups are founded here. However, only 4 percent of small businesses make it into their second year and even less into their third year. This is why we at HIBC wanted to change this trend and provide a community for startups to flourish. ?We are launching our Startup Bootcamp. It's a series of workshops designed to provide you with the skill-set that every entrepreneur must possess in order to face the many challenges that come with doing business in China. ?At our exclusive bootcamp, you will have the chance to connect with like-minded individuals and share your experiences, all while you expand your global network.

We kick off the bootcamp with our Global Startup Ecosystem: Entrepreneurship in China. ?Bringing together a diverse group of successful Shenzhen entrepreneurs you will have the opportunity to hear from them and learn how they tackled the many challenges they faced. You will also get key tips about managing life as an entrepreneur and how they were able to find success when many others have failed. ?If you are an entrepreneur or wish to be an entrepreneur then this is the bootcamp for you.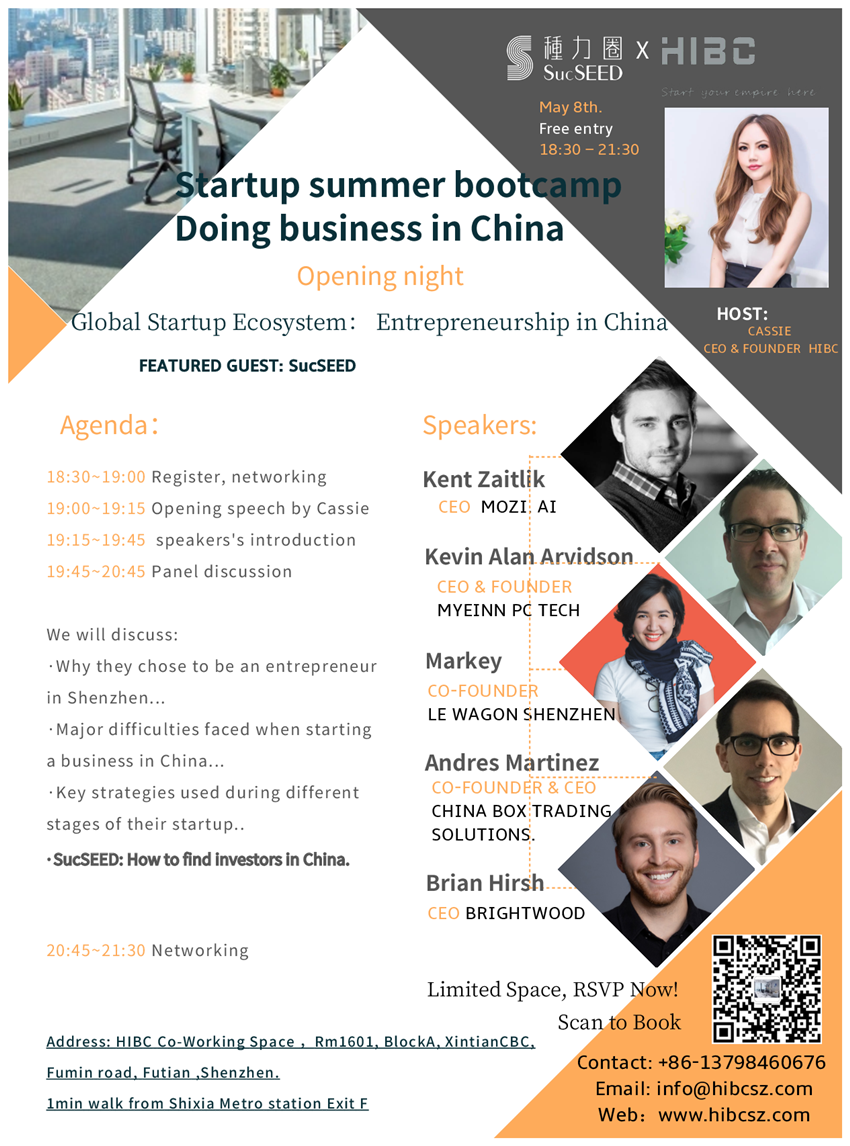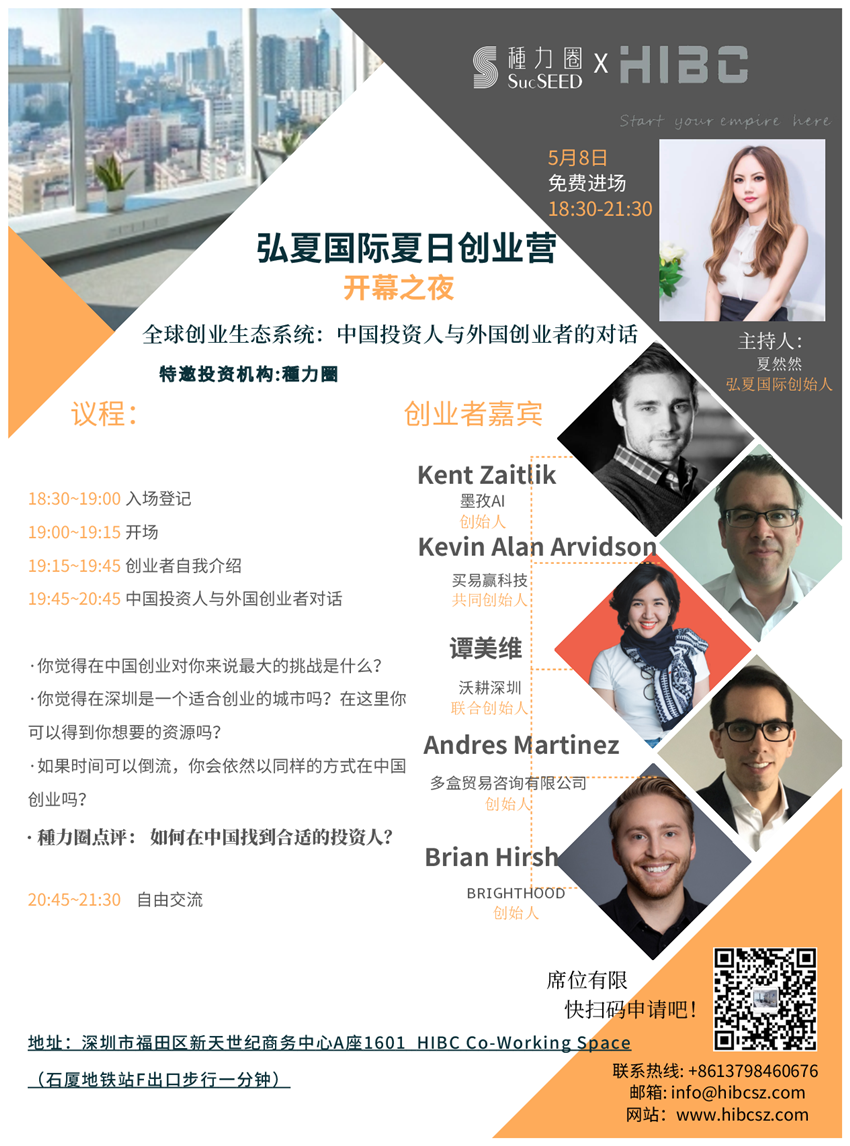 HIBC Startup summer bootcamp
- Doing business in China
弘夏国际夏日创业营
Opening night
Global Startup Ecosystem:Entrepreneurship in China
全球创业生态系统:中国投资人与外国创业者的对话
?特邀投资机构Featured Guest:SucSEED
Date日期:5.8
Time时间:18:30pm – 21:30pm
Free entry ???免费入场
席位有限,须提前预定
?Limited space, RSVP is required.?
Please?scan?the?QR?code?to?book!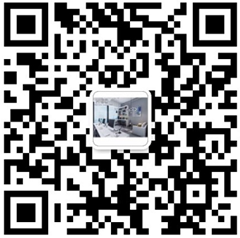 Contact: +8613798460676 ?
Email: info@hibcsz.com
Web:www.hibcsz.com
议程Agenda:
18:30~19:00 Register, networking 入场登记
19:00~19:15 Opening speech by Cassie 开场
19:15~19:45 Each speakers will have 5mins to do presentation?
?创业者自我介绍
19:45~20:45 Panel discussion 中国投资人与外国创业者对话?
外国创业者们分享自己在中国创业的亲身体验
-What are some of the major difficulties you had when you started your business in China? 你觉得在中国创业对你来说最大的挑战是什么?
-Did you think that being in Shenzhen gave you access to the resources you needed in order to be successful? ?你觉得在深圳是一个适合创业的城市吗?在这里你可以得到你想要的资源吗?
-If you could go back, would you start your business in China the same way?
如果时间可以倒流,你会依然以同样的方式在中国创业吗
-What is the?most?important aspect about doing in business in China that you think entrepreneurs should know?
你觉得对于来中国创业的外国人来说,你有什么建议?
...
20:45~21:30 Networking ??自由交流
主持Host:?Cassie CEO& Founder ?HIBC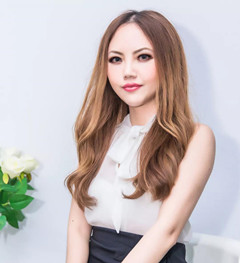 创业者嘉宾Speakers: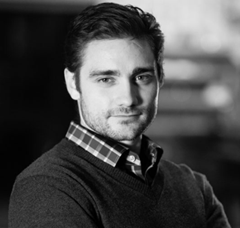 Kent Zaitlik
CEO ?Mozi. AI
Kent Zaitlik has been working with engineering teams towards developing and expanding novel services and technologies in China since 2012. Kent has a range of experience, including establishing a commercial aquaponics farming operation in Shanghai, evaluating novel technologies in the advanced medical, industrial, and semiconductor fields as well as conducting Open Innovation Technology consulting for large MNCs such as Georgia Pacific to develop and deploy novel technologies in China. Now he is Founder and CEO of Mozi. Ai based in Shenzhen.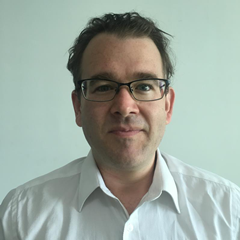 Kevin Alan Arvidson
CEO & Founder??MyEinn PC?
Kevin Alan Arvidson?upon graduation?went to work in?Chicago's dynamic investment banking center in the loop. After various projects including creating a startup yacht export company in Busan, South Korea?he came to?Guangdong, China?and founded Myeinn PC Tech. He has a rich?10-year experience in the small and mid-cap business equipment markets. His experience with empowering diverse teams to exceed performance metrics while being mindful of macro and micro trends in unique markets is an asset to every project.?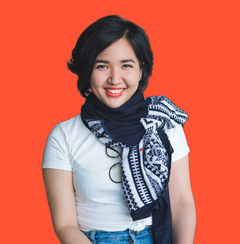 Markey?
Co-Founder ?Le Wagon Shenzhen
Markey founded Le Wagon Coding Bootcamp in Shenzhen in 2018. She has a mission to bring technical skills to creative people in Shenzhen and supporting the entrepreneur community and women with tech career ambitions in the Greater Bay area. Markey is passionate about Technology, Entrepreneur and Startup Ecosystem in China. Previously, Markey was a Co-founder of China Channel and co-organized CHina CHat, which was the biggest International Chinese Digital Marketing Conference.?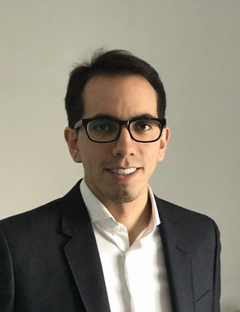 Andres Martinez
Co-Founder & CEO ?China Box
Andres Martinez is the Co-Founder & CEO at China Box Trading Solutions. As?Entrepreneur he passionate about Tech environment and startups eco-systems between Latin American and China Markets. After working experience of the past three years in international trade related projects between Latin America and China, he decided to start his own business in Shenzhen China.?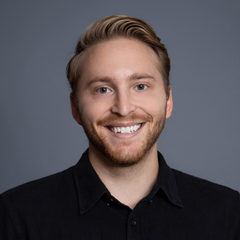 Brian Hirsh
CEO?Brightwood
Brian Hirsh is an American entrepreneur who is focused on using technology to improve the way that we live our lives. As CEO of Brightwood, he is leading the development of a machine learning IoT platform. He has been working in IoT for over 5 years. He started his career at Revolv before it was acquired by Google. While at Fantem Inc. he helped create the most successful smart home crowdfunding campaign which raised $1.8 million in 2015.
HIBC
At HIBC, we aim to create an inclusive ecosystem that acts as a catalyst for startups and small businesses from all around the world to grow your business. With people from diverse backgrounds and sectors all under one roof, special ideas turn into special projects. We supply all the tools necessary for it to grow; from flexible spaces, company setting up tax accounting, legal advices, IP rights, investment services to strategic partnerships. We have helped more than 300 clients from all over the world relocate to China, hosted more than 100 international startups and small businesses in our flexible office space, and held more than 50 community events.
SucSEED (種力圈)
SucSEED?is a future business leader ecosystem. We bring together business leaders, entrepreneurs and industry experts from a variety of industries to deliver and share business experiences and knowledge to next generation and empowering young leaders. They are the pioneers of the new era of the future.
We are here:?
HIBC Co-working space Room1601C,BlockA,?XintianCBC,?Fumin road, Futian district,Shenzhen.
1min walk from Shixia Metro station Exit F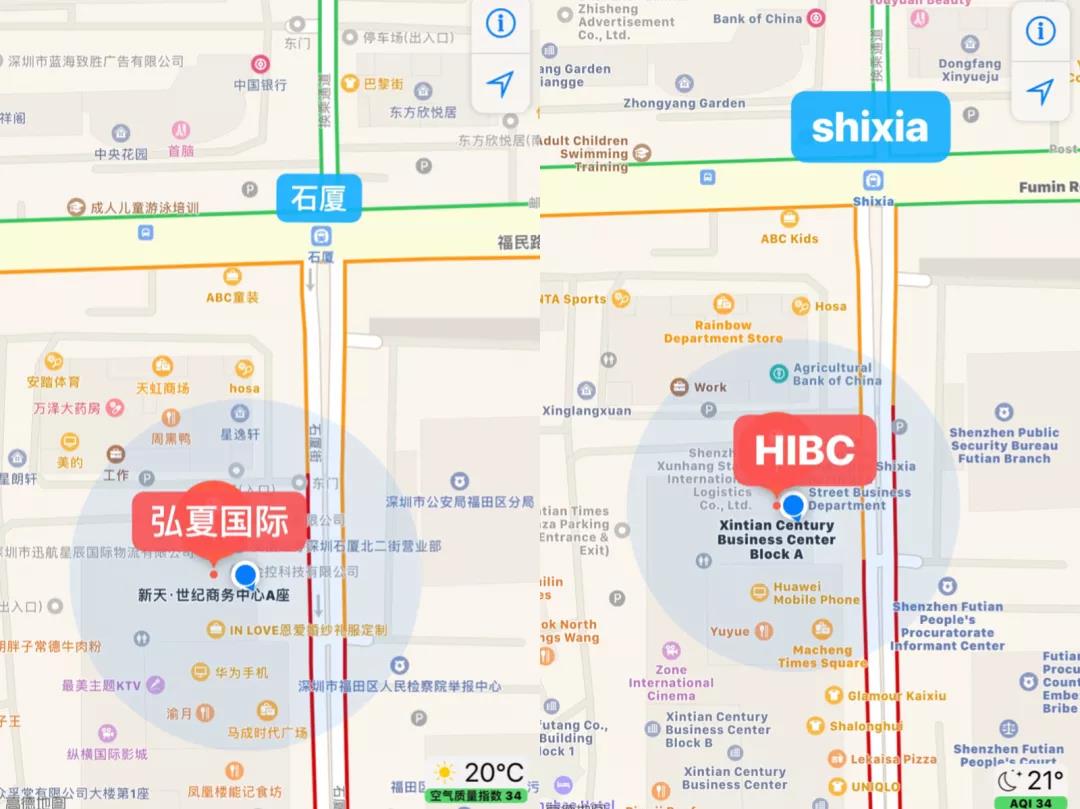 ?*Our Previous Events
▲
#WOMENUP | Female Empowerment Talk II?
▲
HIBC – Laws and Policies of Foreign Investment in China
▲
Overview of Blockchain Policy in China