This Summer, HIBC is launching our Startup Bootcamp. It's a series of workshops designed to provide you with the skill-set that every entrepreneur must possess in order to face the many challenges that come with doing business in China.
In our summer bootcamp we will provide workshops on: Essential information of doing business in Mainland and HK, Taxation for startups, practical issue of working visa and HR in China, how to build your international brand, and also chance to network with investor at our startup networking night.
Our main goal is to build a start-up community for entrepreneurs to succeed. As startup ourselves, we understand the difficulties and challenges that you are going to face every day.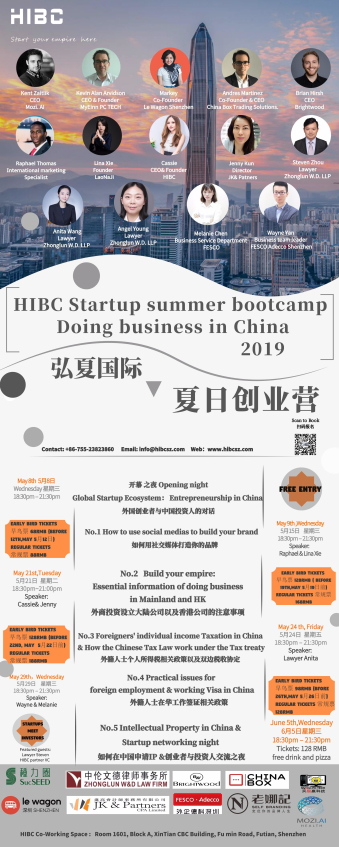 NO.1
15th May wednesday
Time:18:30 - 21:30
Early Bird Tickets 68 RMB
Regular Tickets 88RMB
Sold Out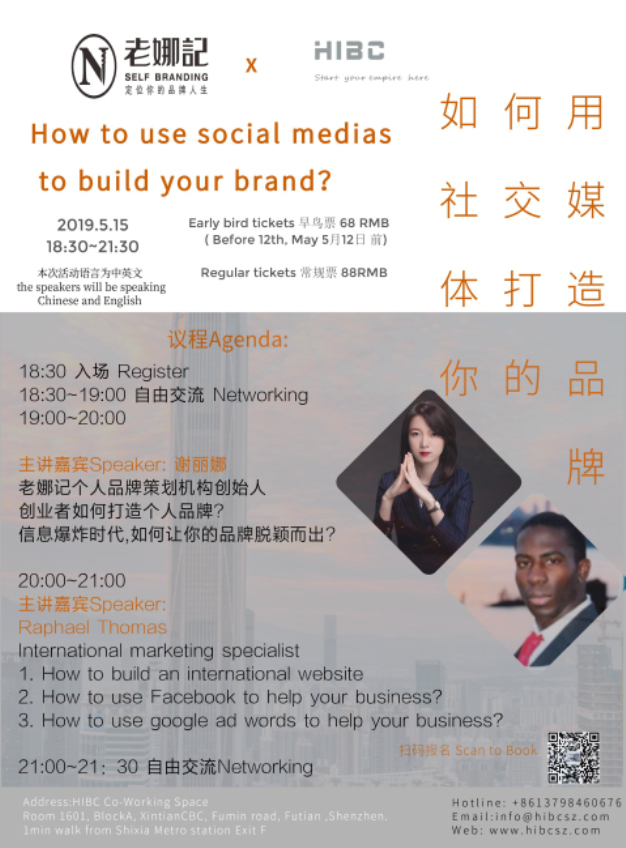 How to use social medias to build your brand.
guest speaker: Lina Xie
Speaker: Raphael Thomas
International marketing specilist
1, How to build a international website
2. How to use facebook to help ur busniess?
3. How to use google adwords to help ur busniess?
No.2
21st May Tuesday
Early Bird Tickets:128RMB(Before19th, May)
Regular Tickets:168RMB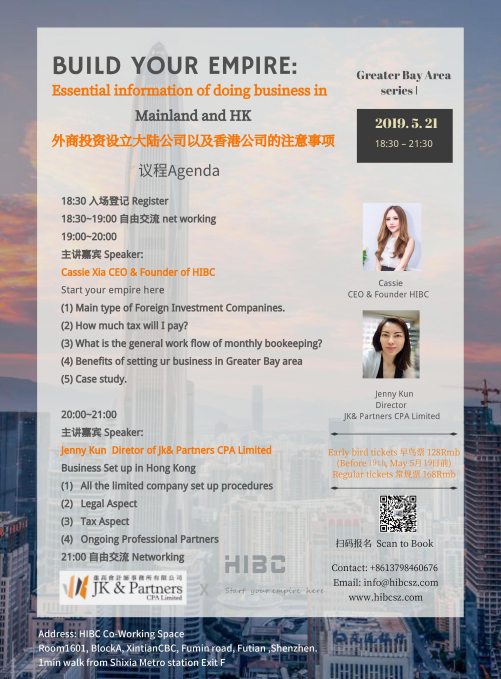 Build your empire:
the essential information of doing business inMainland and HK
Speaker1: Cassie Xia CEO & Founder HIBC
(1) Main type of Foreign Investment Companies
(2) How much tax will I pay?
(3) What is the general work flow of monthly bookkeeping?
(5) Benefits of setting your business in Greater Bay Area.
(4) Case study.
Speaker2: Jenny Kun
Director JK& Partners CPA Limited
Business Set up in Hong Kong
(1) All the limited company set up procedures
(2) Legal Aspect
(3) Tax Aspect
(4) Ongoing Professional Partners
About our speaker: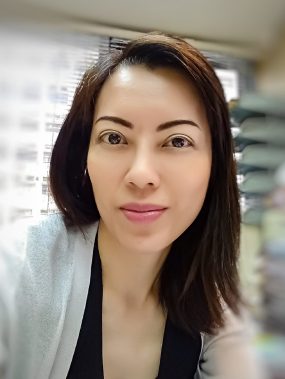 Jenny Kun
Director at JK & Partners CPA Limited
CPA (Practicing), FCA, FCPA, FCCA, CTA (HK)
Certified Tax Advisor
Xero Certified Advisor
QuickBooks Certified Proadvisor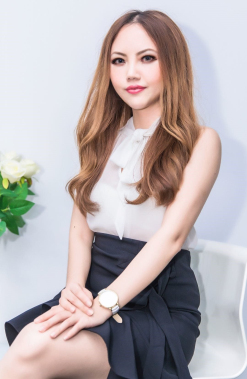 Cassie Xia
CEO& Founder HIBC
No 3.
May 24nd
5.24 Friday
Time:18:30 - 21:30
Early Bird Tickets:128RMB(Before 22th, May)
Regular Tickets:188RMB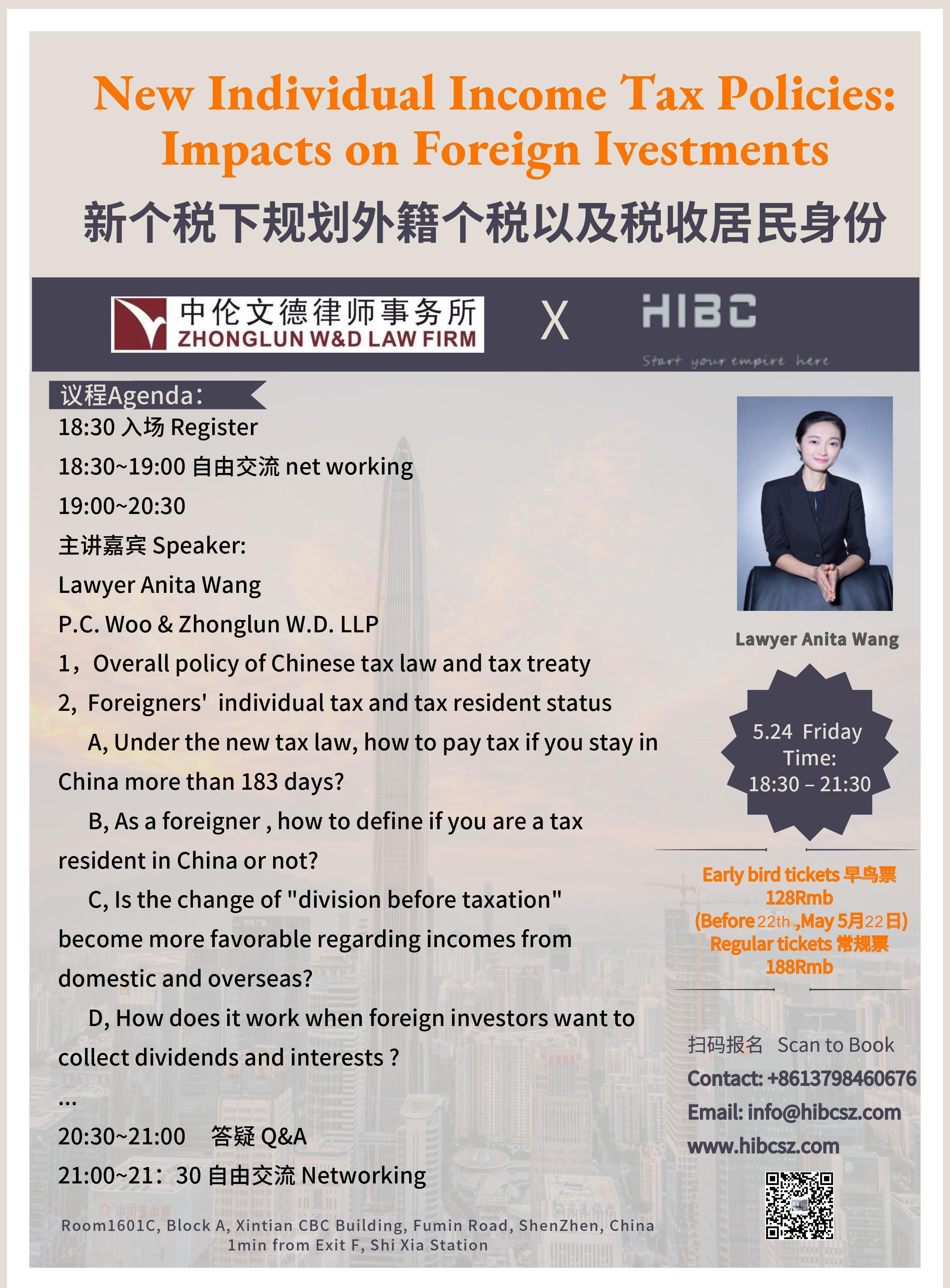 Foreigners' individual income Taxation in China
Speaker: HIBC partner Law firm- P.C. Woo & Zhonglun W.D. LLP
guest speaker
Lawyer Anita Wang
C. Woo & Zhonglun W.D.LLP
Overall policy of Chinese tax law and tax treaty
Foreigners' individual tax and tax resident status
A, Under the new tax law, how to define if you stay in China more than 183 days?
B, As a foreigner, how to define if you are a tax resident in China or not?
C, Is the change of "division before taxation" become more favorable regarding incomes from domestic and overseas?
D, How does it work when foreign investors want to collect dividends and interests?
……
20:30-21:00 Q&A
21:00-21:30 Networking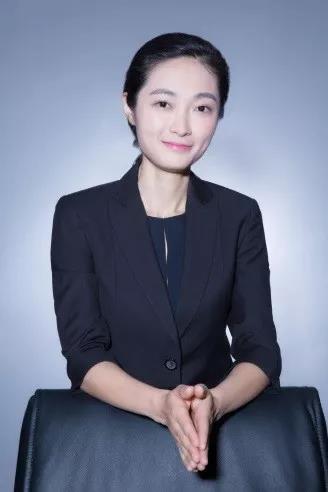 About Speaker :
Anita Wang Senior partner lawyer P.C.Woo& Zhonglun W.D.LLP Graduated from Si Chuan University with master degree in law, Anita Wang is also a Certified Tax Agent, Leading Foreign Affairs Lawyer in Guang Dong Province.
No. 4
May 29th
5.29 Wednesday
Time:18:30 - 21:30
Early Bird Tickets:98RMB(Before 26th, May)
Regular Tickets:128RMB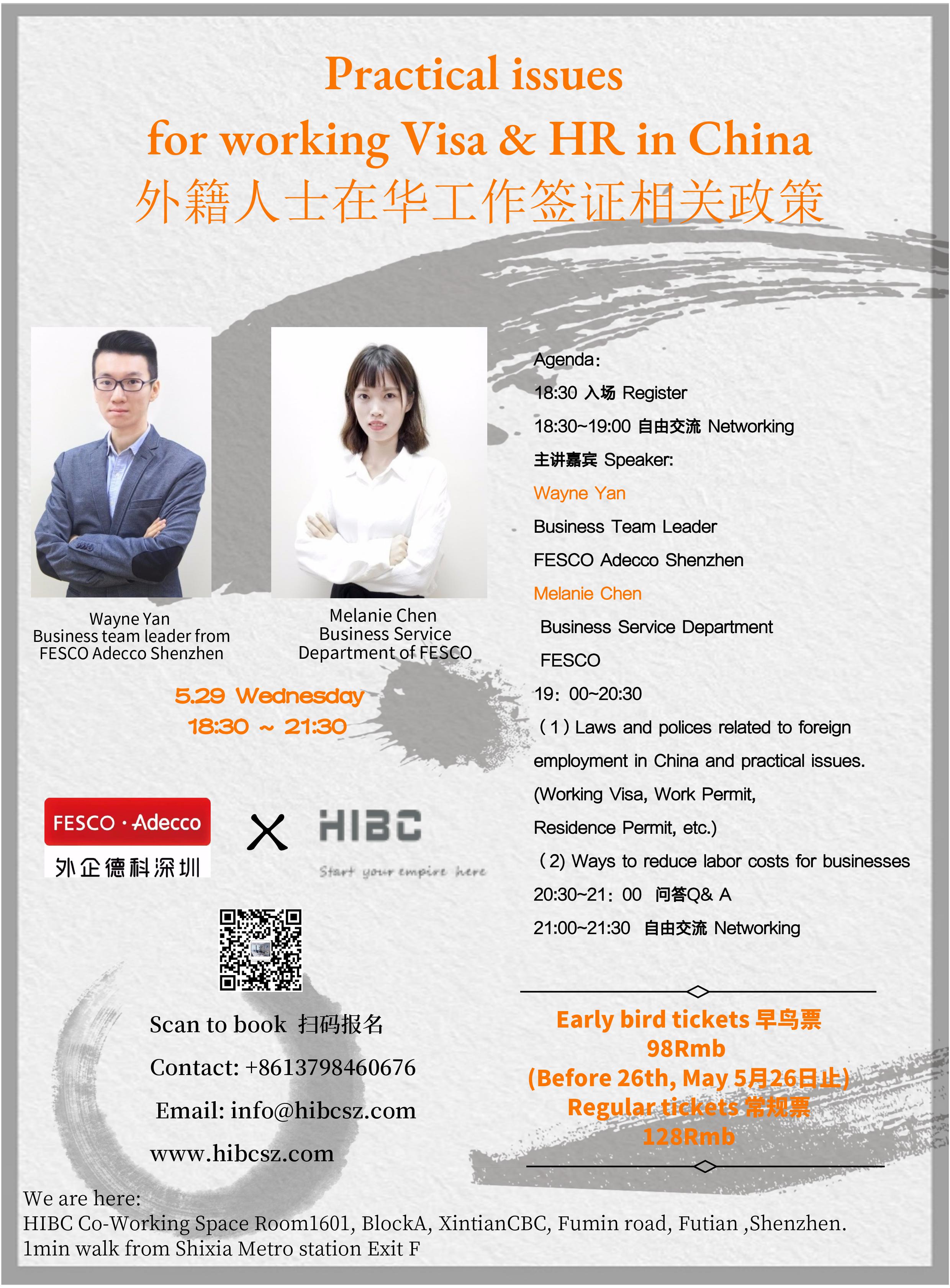 Practical issues ------for working Visa & HR in China
Agenda:
18:30 Register
18:30 - 19:00 Networking
Speaker:
Wayna Yan
Business Team Leader
FESCO Adecco Shenzhen
Melanie Chen
Business Service Department
FESCO
19:00 - 20:30
(1) Laws and polices related to foreign emploment in China and ptactical issues.
(Working Visa, Work Pemit, Residence Pemit, dtc.)
(2) Ways to reduce labor costs for business
20:30 - 21:00 Q & A
21:00 - 21:30 Networking
Time:18:30 - 21:30
Speaker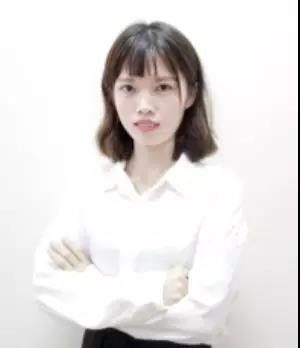 Melanie Chen
From the Business Service Department of FESCO Adecco Shenzhen,
Melanie is mainly responsible for handling the foreign employee related issues.
With extensive practical experience, Melanie is proficient in the application of foreigner working permit, resident permit, etc.
Melanie is now providing service to clients include IBM, Microsoft, CS&S, etc.
Speaker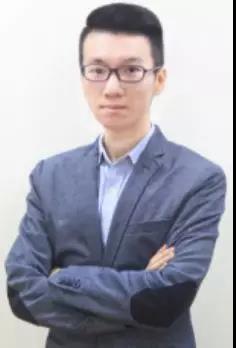 Wayne Yan
Business team leader from FESCO Adecco Shenzhen, years of experience in HR service and related area.
Proficient in Chinese Labor Law and labor compliance management. Have been provided consultations and developed practical solutions for many WOFEs and oversea entities.
Have been worked with clients include Tencent, Canon, Siemens, Huawei, etc.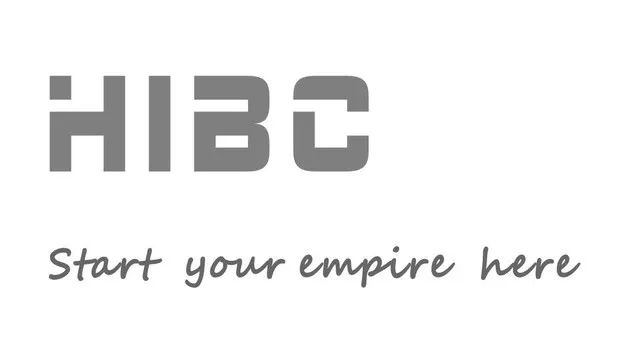 At HIBC, we aim to create an inclusive ecosystem that acts as a catalyst for startups and small businesses from all around the world to grow your business. With people from diverse backgrounds and sectors all under one roof, special ideas turn into special projects. We supply all the tools necessary for it to grow; from flexible spaces, company setting up tax accounting, legal advices, IP rights, investment services to strategic partnerships.
What we do:
- Co-working space/ Serviced Office/ Co-living space
- Relocation service
- Company Registration (WOFE & HK company)
- Accounting and Tax
- HR Service
- IP and Trademark
- Membership and Mentorship
website: www.hibcsz.com
Our previous events: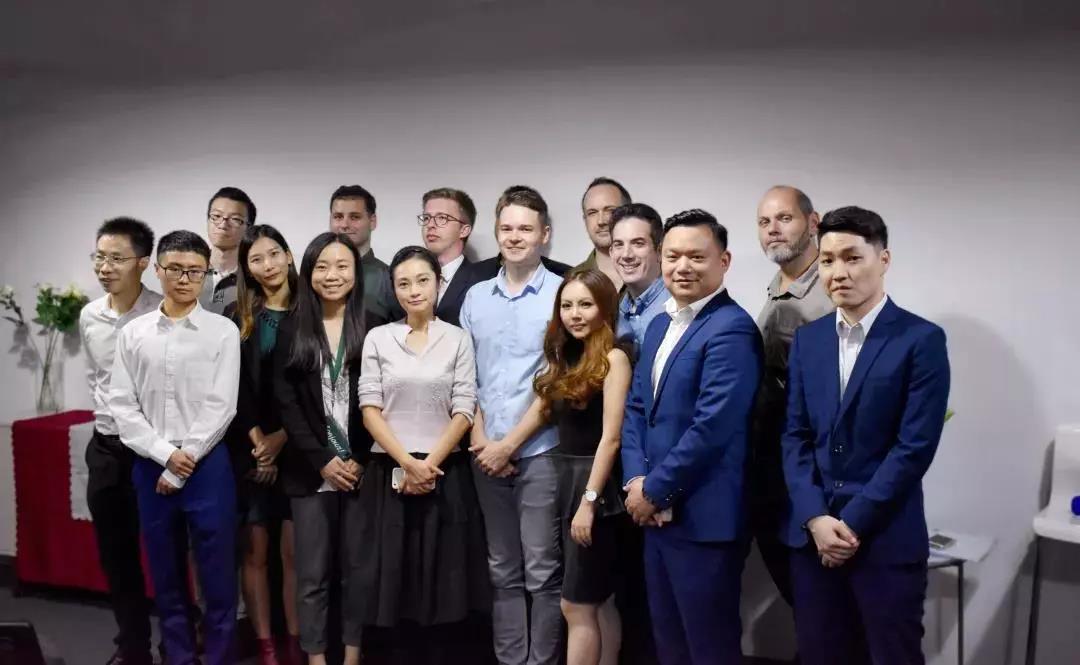 HIBC X Startup Launchpad Startup networking night
——————————————————————————————
Review:HIBC—#WOMENUP Female Empowerment Talk II 弘夏国际女性赋能讲座回顾
——————————————————————————————
弘夏女神节活动回顾---Photo gallery--HIBC Women's Day
Review:HIBC – Laws and Policies of Foreign Investment in China
———————————————————————————————
Review | Overview of Blockchain Policy in China 区块链相关政策讲座回顾
———————————————————————————————