弘夏国际爱心画展精彩回顾 The wonderful review of HIBC?Charity Art Show
?
Founded in 2004 the Children's villages project gives loving homes for children from families that have been devastated by accidents or misfortune. Many of the children in Sichuan?lost their families in the 2008 Sichuan earthquake, which killed 70,000 people making it the deadliest earthquake since 1976 in China. While many of those in Guangxi and Fujian have parents, however they are too impoverished to care for them. These orphaned and bereaved children who would otherwise be left without care, are given the chance to grow up in a loving and nurturing environment. Currently there are three children's villages across China in Fujian, Guangxi and Sichuan provinces, collectively caring for over 300 children.?
?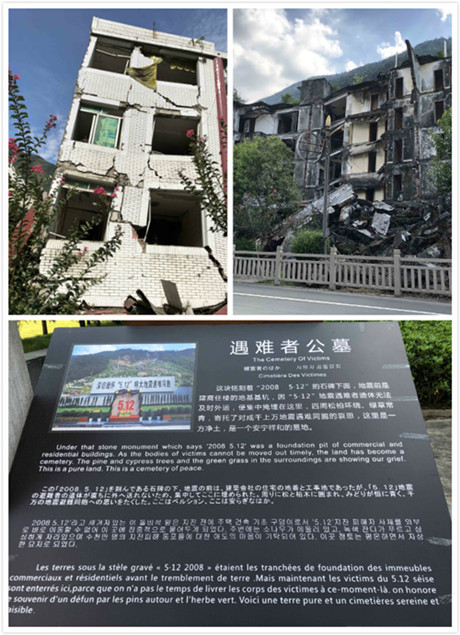 Meng Zhang was just one when the Sichuan earthquake killed his father, leaving him in the care of his elderly grandparents. Daxing Yu's father was a terminally ill man who married a mentally disabled woman, common in rural areas, so he was soon abandoned and left without care. Mei and Jie arrived with limited communication abilities due to their parents both being deaf and mute, giving them little opportunity to develop socially. The Children at the villages all have stories such as these, but the villages allow them to have normal and fulfilling childhoods which they would otherwise be deprived of.

As well as sending annual gifts to the villages, I have visited few times in the past two years and I was given the chance to have close and personal experiences with the children living there. Actually, what struck me about the villages was how well maintained and clean they were, which is due to the children's daily routine of cleaning and maintain their homes, and they really enjoy it! I can see that there is a real sense of community spirit, since everything is shared between the children.
?
When I last visited the Sichuan village it was during the mid-autumn festival, which is a really exciting time for the village. I took part in many activities with the children, but what is most memorable for me was making mooncakes and lanterns with the children. Being so close to them, I really felt how well behaved and polite they are, such as always smiling and greeting guests, allowing them to first arrive and sit before they ate, and even forming orderly queues without any fuss.
?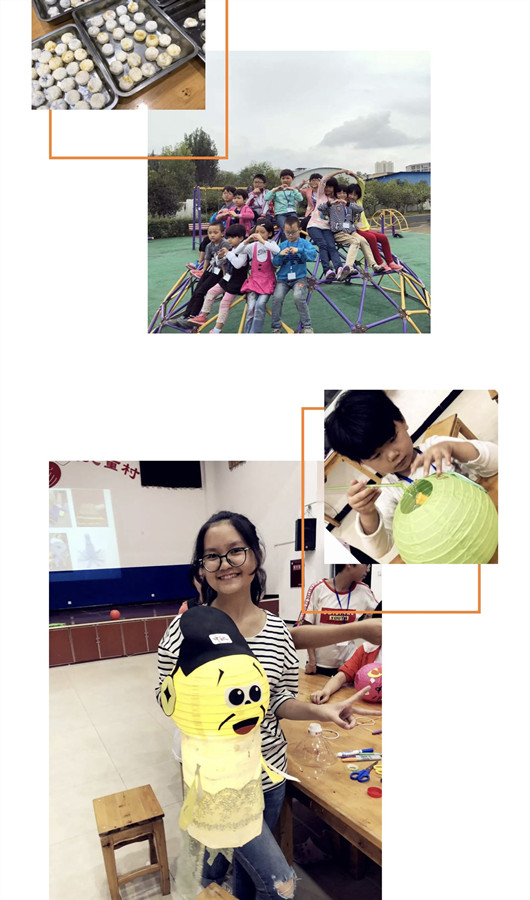 This truly shows how great the work of the volunteers is, you can see through the children just how much love and care they give, but also how their teaching, education and?support is responsible for helping these kids grow up so well. In fact, it is not uncommon in the children's villages for the children to go onto college once reach adulthood, which if you think about their background as orphans, it really shows the amazing work being done there. This is the result of the unique policies which the villages follow in raising the children. The Charity understand that poverty is often because of a lack of knowledge, so there is a real focus on education at the villages, the kids are really smart! But they also truly believe in going beyond academic pursuits, with a strong emphasis on showing the children love and compassion. They place great care on paying attention to each of the physical, social and emotional needs of every child, with regular checks on the children's state and progress. These policies give us a good understanding of how these children have developed so well through this mixture of academic support and compassion.
?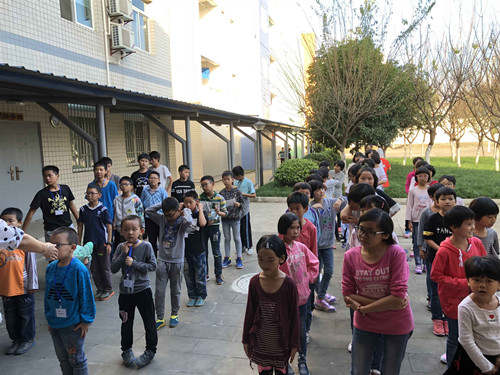 - ?Kids lined up for lunch?-
One special moment made it very clear to me that these children are eager to form close bonds with adults. After the week at the village and the mid-autumn festival, the children were returning to school on the morning we were due to leave. In the rush of school?starting and us leaving, one of the little girls who I had spent time with before shyly approached me and told me she had made me a gift. She showed me a card she had made by herself just for me, covered in decoration with I love you written inside. I was so surprised that she had formed this close bond with in such a short time. We hugged but she would not say goodbye, not wanting me to leave, all she asked is when I would return. I never got the chance to know her story because we were told not to ask, but I could tell that though these children seem happy they would become quiet and near tears if they were reminded of their past. I can really see how strong this beautiful girl is, but also her desire to form close relationships with parental figures. This memory has stayed with me the most and really showed me how important these villages are for these kids.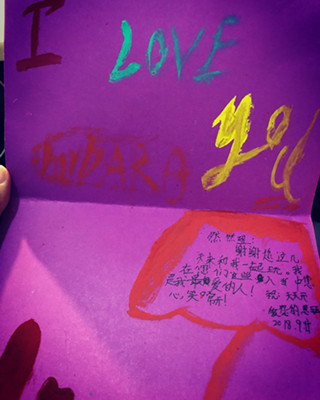 - ?The lovely card shows great appreciation??-
The staff in?Children's villages are amazing people. Some have worked there for over a decade, and some just for a few years, as many of them are elderly it can be a strain for them. They all have such devotion to these children and focus on raising them to become respectable adults, their compassion and love towards the children genuinely?shows,?and goes beyond caring for just their academic and physical wellbeing. Time and time again I heard the staff referring to the children as their family and even as their own children. It's no wonder with this kind of love and support that these kids are growing up so well.
?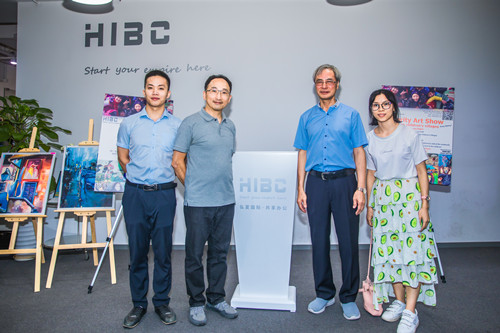 - ?The?founder of the Children's village project Mr. Yuen and the children who grew up in the?village?-
Despite a lack of funding and staff, the facilities are great and in good order, with good resources such as dormitories, libraries, computer rooms, basketball courts, and more. However, there is a chronic lack of volunteer helpers. Many volunteers are international and can only stay for a short time, while for the elderly volunteers it can be quite physically demanding on them to look after?all these lively and vibrant kids. The charity puts a great emphasis on individual care for the children, managing their emotional, social and physical needs, however without enough long-term carers to act in parental roles, the children suffer. This is why they're so happy to receive visitors and guests.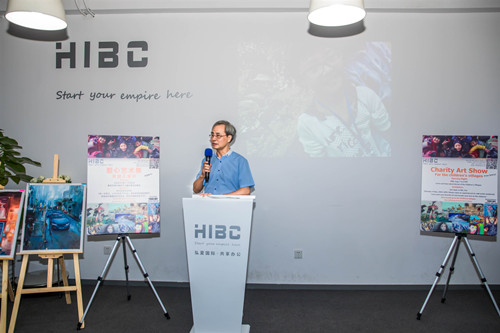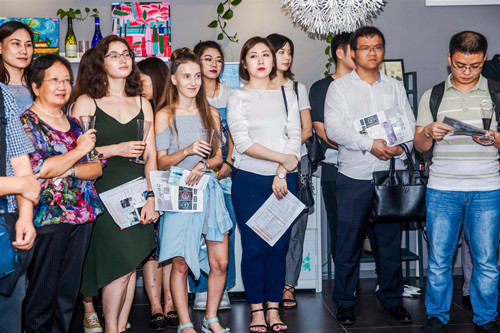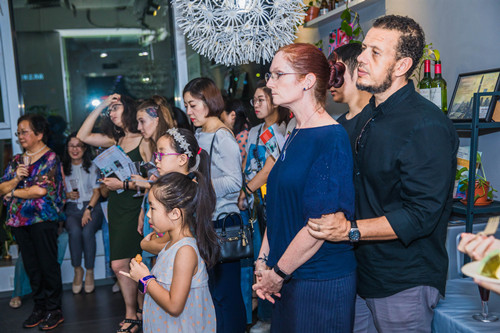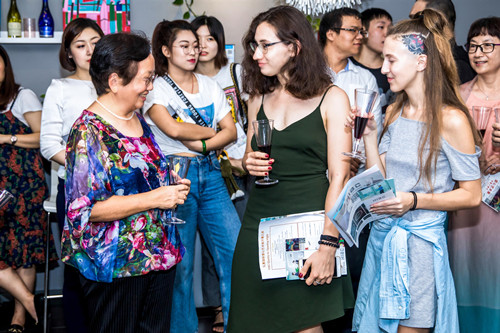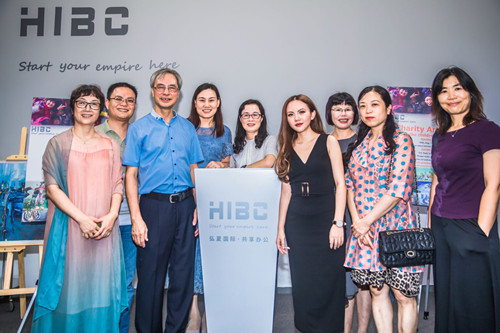 精彩回顾:?HIBC Charity Art Show
The Children's villages are remarkable places full of wonderful kids and selfless adults. The pain and difficulties the children have gone through can never be forgotten by them, but the work done by the volunteers and helpers is really going a long way to giving these kids the best lives they can have.